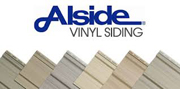 http://www.alside.com
Since we introduced the first low-maintenance residential siding in 1947, we've been raising the bar on appearance and performance. From our energy efficient vinyl siding to the decorative accents that create custom style, we believe that the ideal home is a welcoming space…uniquely revealed in the spirit of you.

http://www.alside.com/color-design/
With our innovative, interactive Siding Design Showcase you can explore all the design possibilities for your remodeling or new construction project. The Siding Design Showcase features our extensive line of siding products, exterior accents, trim and shutters - not to mention a wide array of classic and contemporary color options - for the ideal design canvas. You can create the look that is a realization of your colorful visions. Then print your unique design as a blueprint for your project.
---



http://www.coronetwindow.com
Unrivaled Response
At Coronet, our lead time for the products we manufacture is five working days from the date we receive your order. Period. Forgot one? No problem. We'll shepherd your window right through our shop.

Superior Product
We incorporate the warmest edge of seal spacer available…Truseal Duralite. Glass from Cardinal, the industry innovator. And, we continuously evaluate new components in our unrelenting pursuit of product excellence.

Forever Warranty
At Coronet, our warranty is forever. It can be passed from owner to owner for as long as the house stands. This is the kind of assurance that can only be offered by a company selling superior products.
"I was extremely pleased with 2econtracting, and especially the owner, Mike Tuohey for the really nice job they did in re-siding my home. Mike did everything he said he would, was on time, on budget/bid, and was on site for 95% of the job. I would highly recommend his company for your work."
Howard A.

•

Greenwood, MO